My name is James Dingman.  I got my first real estate license in 1976 (I was 12).  In a couple of years I became one of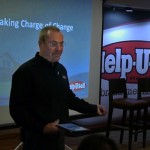 the first Century 21 franchisees in Georgia.  After selling that office in the mid-80s, I went to work as a business consultant for Century 21 Corporate, rose through the ranks and ended my career with that real estate giant in 1995 as VP of Training.  21Plus was one of my 'children', as was The Sales Performance System, Quality Service Course, and dozens of less massive programs.
Since then I've functioned as an independent consultant to various real estate organizations, focusing on the national franchises.  I've done projects for Century 21, Coldwel Banker, ERA, Prudential, and several others.  In 2002 I reconnected with my old friend from Century 21, Rick O'Neil.  As Vice President of Century 21's Northeast Region, Rick was near legendary in his ability to motivate, train, and consult with his offices.  When I found him in 2002, he had a new gig:
President of Help-U-Sell
Skeptical, but needing work, I agreed to a meeting with Rick and his right hand man, Dale Strack, to look at upgrading their new franchisee University.  I took the job and a six month commitment evolved into three of the best years I'd spent in the industry.
See:  I knew the traditional business model was broken.  I knew that when I left Century 21 in 1995.  The business had been hijacked by the agents (I stop short of saying the lunatics were running the asylum!) and brokers weren't making any money.  My very best offices at Century 21 struggled to make even 3% in profit and many made nothing at all.  It pained me to watch them faithfully send 7% of their gross to the franchisor while dropping a big goose egg on their own bottom line.
What Rick and Dale showed me at Help-U-Sell was an entirely different way to do the real estate business.  It is a model that consumers love and that can be hugely profitable for the broker.  At Help-U-Sell, the offering is consumer centric, and the business model is broker centric.   There's a whole lot in that statement, more than would be appropriate for this 'About' page.  But that's what this blog is all about:  The Industry, where it's going, Help-U-Sell and where it fits.
I left Help-U-Sell in Fall of '05 and took projects with other companies.  It was clear through it all, though, that Help-U-Sell had my heart, so when John Powell, the new Chief Operating Officer and one of the Help-U-Sell people I respect the most, called to see if I'd like to help shepherd the company through the tough business climate of '09 . . . I jumped.
Today we're coming out of the most devastating real estate market in history.  Slowly, order and sanity are returning to the business.  As we climb out and buyers start to buy again, and sellers start to sell again, consumers are going to be making a choice.  They're going to be choosing the real estate companies that will be dominant in the next dozen years.  Personally, I don't think they're going to be choosing the big traditional companies whose signs they've seen for years and years.  I think they're going to be looking for a new approach, a new deal, a better price and a relationship that makes sense.  I think they'll be choosing Help-U-Sell in dramatic numbers.  Stay Tuned!