Here's a little background you may not know: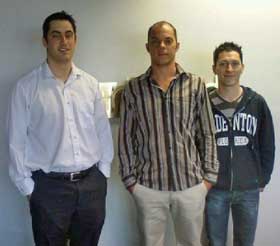 Our new Help-U-Sell website and the new Broker websites that are being unveiled a the upcoming Tech Summit, are being developed by a crackerjack team in South Africa.  The are led by our own Robert Stevens, an Afrikaner himself.   After working with Help-U-Sell for several years, Robbie took the franchise to his homeland and established it there.  If you look at what he accomplished in South Africa in two years, you cannot help but be more than impressed; you'll be amazed.  He grew from nothing to 34 offices, terrifying the traditional business that was already there while delighting consumers as only Help-U-Sell can.
Robbie came back in 2008, and when Ron Westman and Infinium took over, one of their first official acts was to empower Robbie to do what he'd been advocating for a long time:  rebuild the Help-U-Sell web presence from the ground up.  You see, our website had been outrageously effective in the 2002-2005 time-frame.  It absolutely flooded leads into the system.  The reason was simple:  while the rest of the industry fought tooth and nail not to give consumers free access to information, we embraced the idea.  After all, Information Without Obligation was one of our core values.  So we employed IDX at a time when most of the other players in the industry kicked it aside and hoped it would go away.  Of course, the consumer was delighted and flocked to our website.  We quickly started to outrank Re/Max and Century  21 in the Alexa traffic stats and even topped Realtor.com a few times.
Unfortunately in 2005, things began to shift.  One of our large competitors saw what we were doing, declared they wanted that and wooed our vendor away, leaving us out in the cold.  We scrambled.  But truth is, the next few well-intentioned attempts to restore the Help-U-Sell website failed.  Robbie realized the biggest problem was that we were at the mercy of the vendors who created, hosted and maintained our site.  Not only were they in control, they also took many of the great ideas we used in our website and distributed them to their entire client base.  We needed our own site, we needed to build it, we needed to be responsible for it.
So in January, 2009 he began working with a team he'd met while bringing Help-U-Sell to South Africa.  No strangers to real estate, these guys had already established the South African version of Zillow/Trulia and were the cream of the crop of that nation's real estate oriented web developers.  In six months they had the new corporate site up and running and nearly doubled traffic.  Helpusell.com is carefully constructed to be the Marilyn Monroe of real estate websites capturing the eye and the attention of search engines on a near constant basis.  What can I say?  Helpusell.com is flirty and captivating!
Now, the focus is on our broker websites, designed to synergize perfectly with the corporate site and to bring a level of easy customization to our brokers that's never been seen on this kind of site before.  When they are introduced at the Tech Summit, the first week of March, the new sites will make it possible for a broker to quickly localize, customize and optimize his or her website, to maximize hits and page views, and minimize bounce rate.
Today, the first contingent of the South African team arrived at Help-U-Sell HQ in Sarasota.  They will be with us for the next several weeks to ensure that the introduction of the new broker sites goes without a hitch.  It is an important and exciting moment in our history.  You'll be meeting them at the Tech Summit but for now, let us all say, 'Welkom!'