Beverly Sonnier, a Help-U-Sell Broker in Tucson, AZ, forwarded me this email yesterday: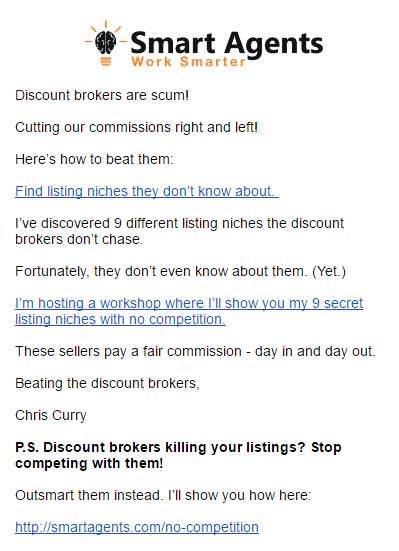 (Note:  this is a screen capture of the message so the links don't work.)
I think this is the funniest thing I've seen in awhile! He's talking about 'Discount' brokers, but he means Help-U-Sell (even though we are NOT a discount broker)*.
But he's saying the only way to compete with us is to go somewhere where we aren't! The only way to beat us is to go somewhere else!
That's funny enough.  But then he says, about his 'Niche' sellers, 'These sellers pay a fair commission – day in and day out.'
There is nothing fair about percentage based commissions.  6% of your home's value is obscene, sure, but even 2% would be unfair! What does a percentage of your home's value have to do with what it takes to get it sold?  (Absolutely Nothing!) And, if your real estate broker is charging a percentage, that mean the person with the less expensive home is going to pay LESS than you for the exact same service! There's NOTHING fair about that!
Listen:  the ordinary real estate world runs on a business model that hasn't changed in 70 years.  It's old and stale and consumers are rapidly figuring that out.  One thing this 21st Century has shown us is that consumers will quickly jump to anything they perceive to be faster, better, more modern or more logical.  Consider the rise of Amazon and the decline of Macys, J C Penney and Sears.  Faster, better, more modern, more logical:  that pretty well describes Help-U-Sell Real Estate, except that you can also add in Less Expensive!
*A discounter finds ways to cut the expense associated with providing goods or services.  They might use less expensive material or provide fewer customer service personnel.  In real estate, a discounter would cut something – and it would probably be marketing and service.  That's not Help-U-Sell.  We charge less because our business model is different:  it is modern and efficient.  Our sellers get all of the marketing and personal service ordinary brokers deliver and actually more . . . they just pay less.