I just got off the phone with Ron McCoy.  He's been in Reno and Lake Tahoe this week meeting with brokers.  Of course Paul McAlpine and Bob Domiteaux continue to inspire as they fight through the tough Reno market — that was good to hear — but the most interesting story came out of South Lake Tahoe.
Josh and Ginger Davis have Help-U-Sell Horizon Line Realty there on the main drag where the road to Heavenly takes off to the East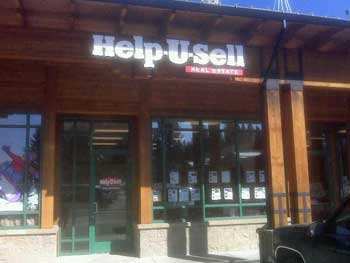 .  They are in a beautiful new strip center with good signage.  It's also one of the more expensive retail locations in the area.  Ron tells me though, that during the several hours he spent there on Wednesday there were about three walk-ins.  Ginger has her listing flyers in the windows and people do what they always do:  they look, they read, and they sometimes walk in.
As Ron was preparing to leave, he noticed a couple of women looking at the listings in the window.  After a few minutes, they came in the door.  Ginger greeted them and asked if she could help.
'We've been coming here for years and renting a place,' said one of the women.  'We're surprised to see how much prices have fallen and we're just thinking maybe this would be a good time to buy.'
Ginger has an appointment to work with them this afternoon.  They'll be seeing homes in the $700,000 range.
There are a lot of location specific dynamics in this story.  It is a resort area.  It is Winter (their high season).  The Olympics has everyone yearning to be in the snow.  But the decision to go into a strong location, to bite the bullet and spend a little more on rent to get sign exposure and walk-in traffic, is working for Ginger and Josh.  She reports she gets about one walk-in every day.
I'm not suggesting that everyone rush out and rent hi-end retail space.  However, I am saying it's time to start evaluating the space decisions you made during the downturn.  Many wisely retreated to less expensive but less visible space to weather the storm.  Now it's clear the market has begun to turn.  It's time to put your feelers out, to start casually looking for space that might pay for itself in walk-in traffic.  Maybe by Spring you'll be at a place where you can, like the flowers, peek your head out and shine in a very visible way.