Peter King with Sports Illustrated does a column on their website called 'Monday Morning Quarterback,' where he reacts to the NFL Football games of the previous weekend.  I'm taking a page from his lesson book here  to comment on a few Help-U-Sell specific things, but feel impelled to talk football first in Peter's honor.
First off, The Chargers (my home team) reminded me so much of the traditional real estate world in their lacklustre AFC Playoff game.  They were overconfident, relied on the same old same old, did nothing new or out of the box, did not respond to the challenge of the moment, and. . . they lost.  It's taken me a week and two days to even be able to talk about it.  The Jets, however, are a rag-tag upstart bunch that clearly has a different approach. They reminded me of Help-U-Sell, intercepting passes, forcing fumbles, running poor Phillip Rivers ragged.    It took Peyton Manning and a well prepared Colts team to handle them.
Yes, we're all glad to see the Saints in the Super Bowl, but is Brett Favre a class act, or what?  To see him come back after spraining his ankle and scramble around like a 25 year old made me proud to be a grey haired geezer.  Could there be an AARP Magazine cover in his future?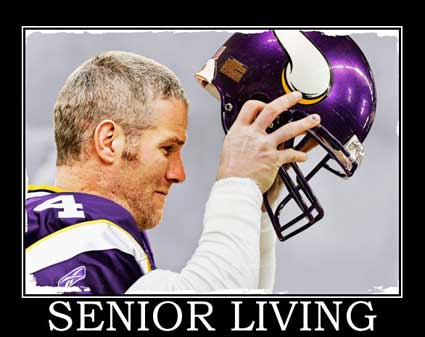 Speaking of the future, the upcoming Tech Summit is shaping up.  The development team from South Africa arrives in a couple of weeks to ensure that the rollout of the new broker sites goes without a hitch.  They will attend the meeting as well, as we all learn how to do the simple things that will make our websites really Hummmmmm.  If lead generation is your goal and if you're short on the time, money and effort it would take to do a consistent direct mail campaign (i.e.  ETMs), then learning how to use the Internet to accomplish the same objective is key;  and that's what we'll be doing at the Tech Summit.   It will also be a time to come together and bond as a new, rejuvenated Help-U-Sell family.  You get the added benefit of hearing a bunch of guys talk like Matt Damon and Morgan Freeman in 'Invictus.'
Most frequently asked question:  What does it cost?  Simple answer:  nothing.  All you pay is your transportation, lodging and most meals.  Lunch on day two will be provided.
A surprising number of folks are planning on coming to Sarasota for the meeting, which will be held at Help-U-Sell Headquarters.  The host hotel is the HERE and it is very nice at $119 a night.  It includes breakfast, dinner and a shuttle service to and from the meeting.  March 1 and 2 are in the heart of the 'Season' in Sarasota, so rates everywhere are pretty high.
The Vegas hotel is The Palace Station.  It's across the freeway from the strip and is a very nice property.  They have about 10 restaurants and offer free shuttle service from airport and to the strip.  It's also a bargain at $29 and $39 a night (plus about $10 in fees).  The more expensive rooms are worth the extra.
You'll need to come to the meeting with your wireless network enabled laptop so that you can participate, learn and get maximum benefit.  If you don't have one, now's a great time to invest or upgrade.  The little Net-Books do just about everything you'd need, weigh nothing and cost less than $500.
The new edition of Help-U-Sell Connect is out except for the video update, which Tami, Robbie and I will be recording that this week.  I didn't mention John because he won't be there:  he's roaming around Northern California, working with Maurine on University and calling on a few brokers.
Maurine started the first ever online Help-U-Sell University last week with an overview of Marketing.  It was excellent and took the 30 or so attendees back to basics.  We all know that marketing has changed, but in order to cope with the changes and make good decisions it is important to remember what the intent of marketing was from the beginning.  That's what last Thursday's hour long session was all about.  University continues this Thursday and I'd urge you to get involved.
Finally, Lori Warnelo has been calling offices in her new role as Team Services Liason.  Our goal is to be in touch with every office about once a month.  Lori will be reminding brokers of upcoming events and initiatives, taking the marketplace pulse and looking for ways to improve the overall performance of the Help-U-Sell team.  You Go, Lori!
And finally, FINALLY:
DON"T FORGET!
National Help-U-Sell Get A Listing Day
Next Tuesday, February 2, 2010!
Make it your goal in life that day to get a new lisitng and to report your war story in a comment here in the SetFeeBlog for a chance to win a one-on-one website consultation with Robert Stevens.  Details HERE.