Realty Trac is out with foreclosure stats for 3rd quarter.  It is an ugly picture but one also full of opportunity.  Sales of foreclosed property were down from the previous quarter and from the same quarter last year but remain an enormous factor in many markets.  Here is a snapshot of the states with the largest numbers of foreclosure sales for July, August and September: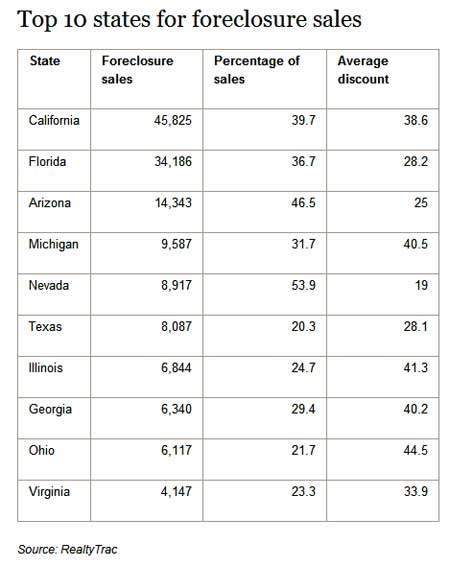 By the way, Realty Trac calculates the 'discount' by comparing the average sale price of foreclosures in the State with the average sale price of non-foreclosed properties.  It's not a perfect method (kinda like comparing the juice of this pile of apples, oranges and lemons with the juice of this other pile of apples, oranges and lemons), but the result still indicates that sellers with equity in the top foreclosure states have monumental competition.  Still, if your house is worth $200,000 and you have to price it at $175,000 to sell so you can buy your dream home (which happens to be an REO) valued at $400,000 but priced at $300,000, I think you're way ahead.  Where else can you give up $25,000 and gain $100,000?  No stock market I've ever heard of.
Even if you're not trading up, it's a wonderful time to refinance.  I just did it on a streamline process that required minimal paperwork and no income verification (something I thought was gone forever).  It did require an appraisal but I think the appraiser must have been tipsey that day because he gave me way more value than I expected. My timing was a little premature:  I got a 4.375% rate and a few weeks delay would have probably saved a a nano-point or two but it sure beats the 6.25% interest only loan I gave up! Really: 'tis the season to touch base with everyone you've ever sold a house to, so why not help them discover if a refi might be available to them?
AND, OH BY THE WAY:  As you are paying your REALTOR dues this year be sure to make your voluntary contribution to RPAC and/or your State political action fund.  Congress is seriously debating taking away the tax deduction homeowners receive for mortgage interest paid, a move that in my opinion would be horrendous for America.  I hate lobbiests as much as anyone else, but ours are wearing white hats and need your help.