Several months ago, the Tech Team — OK:  Robbie — rolled out the new Help-U-Sell mobile phone website.  It's a nifty tool that enables consumers to access a smart-phone friendly Help-U-Sell website so they can retrieve property information anywhere.  For example, a buyer driving neighborhoods who sees a Help-U-Sell listing can now get information about it on the spot through his or her cell phone.  They don't even have to remember to type in .mobi. The system recognizes the mobile phone and directs www.helpusell.com inquiries to the appropriate pages, too.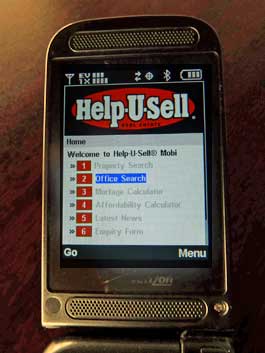 Consumer use of the mobi site was clicking along for a couple of months when Tami Patzer created a press release about the new tool.  Inman News picked it up and there was a huge spike in usage.  That settled a bit, but then continued to rise as more and more outlets picked up the story.  Right now, we're getting remarkable traffic on helpusell.mobi.
We have to remember:  when our parents think of a 'computer,' they picture a box that sits on the floor connected to a monitor, keyboard and mouse by wires.  When we think of 'computer,' we picture a notebook.  When the up and coming consumer thinks 'computer,' he or she may well picture a smart phone or other mobile device.  That's why helpusell.mobi is so important.  You owe it to yourself to get your mobile phone out and play around on the site so that you can talk intelligently to your customers about it.