We all know Help-U-Sell  marketing has changed.  It's moved from a largely direct-mail oriented program to one driven by the Internet.  However, that does not mean that mail is no longer part of the mix.  Quite the contrary.  Over and over I hear from successful offices that judiciously placed, highly targeted mail is a key part of their marketing program.  Just Listed and Just Sold postcards targeted to a specific geography and to a CI list are essential to establishing the top of mind awareness that leads to major market share in a Target Market.  Even ETMs are important.
In the olden days, 'ETM' usually meant a super-market circular or Penny-saver stuffer, usually on thin, slick paper that presented the seller message to a broad geography – 7,000, 8,000, 10,000 households and more.  That ETM is pretty much gone.  Not only was the cost steep, the effectiveness of these mailers dropped to nearly nothing as the market shifted.  Today, 'ETM' usually means a large format postcard with pictures and descriptions of homes for sale, Sold & Saved listings, Testimonials and an Easy Way.  Instead of blanketing an area via a circular stuffer, the idea behind the new ETM is to use it to zero in on the highest potential areas within your target market – those areas where equity sellers are most likely to be hiding.
Excel Print and Mail has done an outstanding job of handling these kinds of needs for Help-U-Sell brokers for a number of years.  Best of all, they've redesigned their website to be more user-friendly and have a whole new selection of cards available for instant customization.  Check it out: www.husmailnow.com .  Set up a user account and you'll be taken to a product page where you preview what's available.  Excel has also done some customization of cards in the past and may be able to help you with a more specific message.  It's a turn-key solution:  postcards with your contact information, mailed using their lists to any size or shape geography you might choose.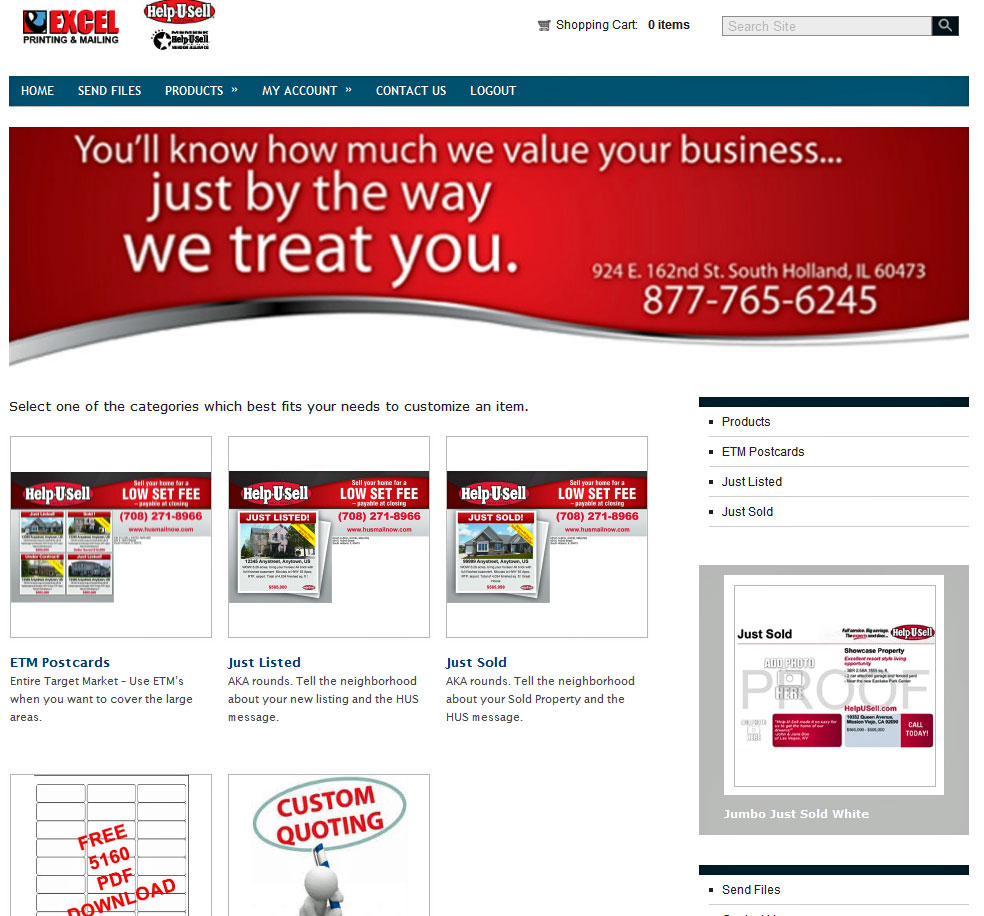 Definitely check out the site now, but our rep, Mike Paholke, will be joining us at the Success Summit next month in Anaheim.  He'll give us an overview and answer questions over lunch on Tuesday, Nov. 15.
*The Help-U-Sell Success Summit takes place Nov. 14 – 16, immediately following the NAR Convention in Anaheim, CA. Our special room rate at the Menage is available from the 11th – when the NAR meeting begins – all the way through the Summit and even beyond. So take advantage of it to come in early, go to NAR (help us in the booth!), or stay over for a day at Disneyland. Don't miss this great opportunity to grow your mind and your business! Register now by going HERE (it's free). And then make your sleeping room reservations at the Hotel Menage: 714.758.0900