A couple of years ago we talked with our team about claiming their businesses and editing the information on Google Places.  Earlier this week I decided to check up and see who had actually done this.  I'm sorry to report that I looked at almost 20 brokers' pages before I found one that had been claimed, edited and verified.
This is important.  It's a FREE online listing for your business.  It's there already . . . it's just that the content is only what Google was able to glean from your most basic information.  If you will Claim, Edit and Verify your information – plus spice it up with some photos and even a video – this listing will actually help people find you online.
Let's do an experiment:  go to www.google.com and search for your city and State and the word 'REALTORS'.  I just did it for Honolulu, Hi, and here's what I got: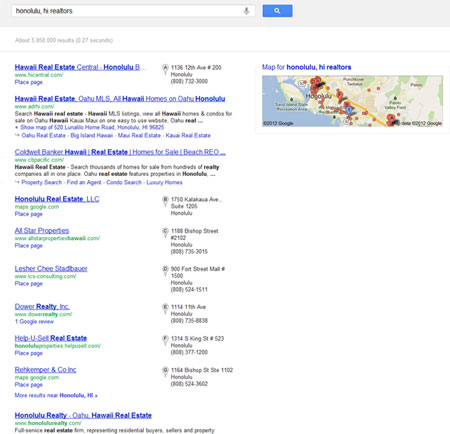 Of course the first few listings are paid, but right after that – where the listings relate to the map on the right – all of that information comes straight from Google Places.  The same thing happens when you do a similar search on Google Maps: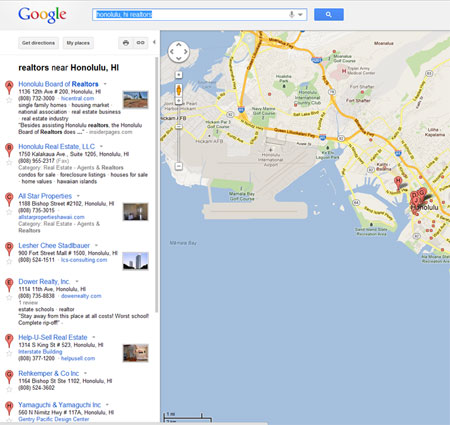 Taking charge of this is very easy, but I want to show you what your place probably looks like today: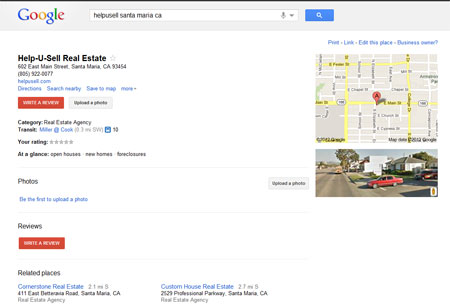 You can see there is lots of space to strut your stuff in print, photos and even video (I know so many of you are putting together short intro videos for your websites – why not let them do double duty?
Taking charge is very simple:  just go to www.google.com/places and click on the 'Get Started' button on the right side of the screen.  If you need help, there is great documentation here.
Now there is one quirk in all of this:  Google recommends you use Chrome, Firefox or Safari to update your profile.  They warn that using Internet Explorer may produce unpredictable results.  If you are an IE person, I think I'd try it anyway and see what happens.  If the result is unacceptable, they you can download a free version of Chrome and do a re-do.  The important thing is to JUST DO IT . . . because I'm going to be checking to see who has and who hasn't verified their listings!