Confidence is up, rates are down, prices are increasing, pending sales are way up . . . I have to admit, it's getting better, it's getting better all the time (Lennon/McCartney).
NAR just released the slides their Chief Economist,  Lawrence Yun, used in his State of the Housing Market address at their mid-year meetings, May 14-19.  The 31 slide package is fascinating and DEEP, and you can view the entire thing HERE, but I want to reproduce six of the most powerful charts here on the Set Fee Blog.
First is the issue of affordability.  Housing is more affordable today than it's been in years.  Really:  we're talking pre-1970s affordability.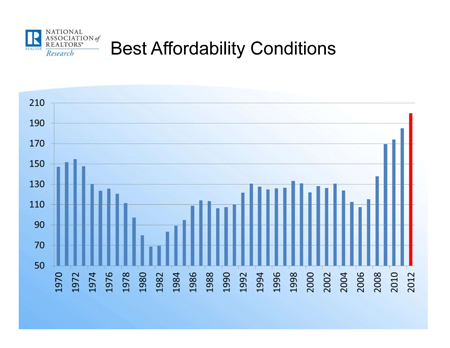 And, at the same time, mortgage interest rates are ridiculously LOW: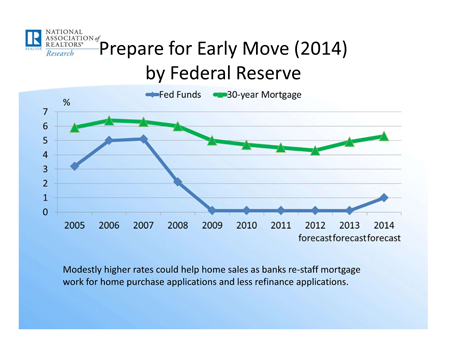 Note the projection of rising rates starting this year.  If history teaches us anything, this is good for housing sales.  In the past, slowly rising rates after a period of flatness pushed many fence sitters into the market, anxious to get the best rate before it's gone.
This near tsunami of good news has contributed to a significant rise in REALTOR confdence: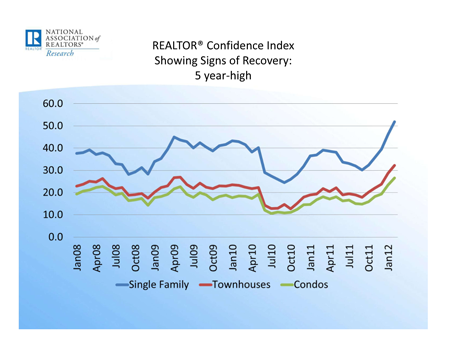 It's interesting to see the low point from July through October 2010.  That was the period immediately after the two housing stimulus tax credit programs.  As we all realized there would not be another similar program to bolster sales (and that the two we already had produced no long term benefit), we just got . . . depressed.  But by the end of 2011, our own economic Prozac had begun to kick in and now we're nearly giddy.
Look what's happened!  Pending contracts are rocketing upward at a magnificent pace!  We're almost back to where we were at the beginning of 2007 when everything fell apart.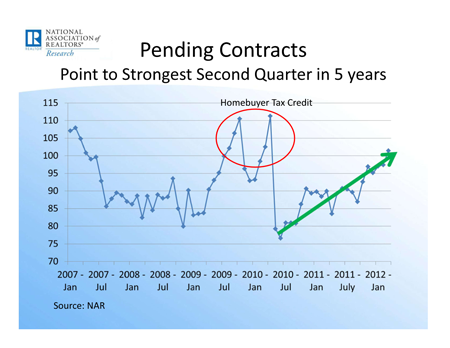 Pendings are nice, but mostly because they predict upcoming sales, and it's sales that count.  Check out our Q1 2012 closed sales stat: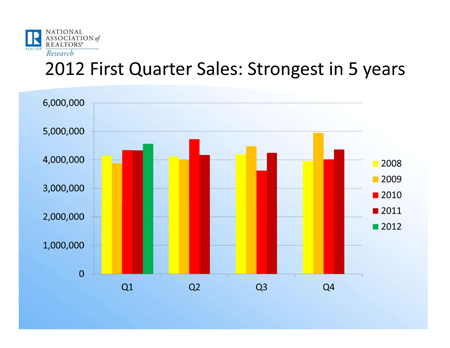 Breathe a sigh of relief:  it looks like steady recovery may be a reality.  But assuming no other catastrophy befalls us, there are still challenges in this improving market, notably in terms of inventory.  I can't help crowing like a rooster, 'I told you so! I told you so!', but I did tell you we were looking at a housing shortage back in November and then in more detail in December.  That's when the media was still sqwaking about how bad things were going to get when the mysterious 'shadow inventory' hit the market.  I am still not sure I believe in the shadow inventory, but it remains a topic of conversation.  Even Dr. Yun has a slide showing the continued rise in the numbers of homeowners 90 days or more late on their payments and/or in the foreclosure process.  I didn't include that slide in my magnificent Six, but here is the state of new and resale inventory: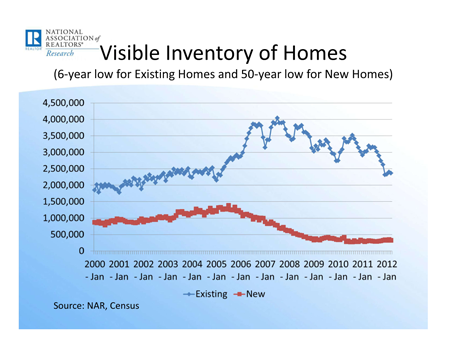 New homes for sale have been at a numbing flat line since 2009 and we're getting back to 2006 levels on existing homes.  This one fact, coupled with the preceeding five slides tells me something very important:  if you have any notion about buying a home, you'd better get busy NOW.  Everything is picking up (including prices), rates are better than they will ever be, and the pool of houses to choose from is shrinking.  Be ready to bid against other buyers on your dream home:  I'm hearing more and more about multiple offers on good properties.  Don't let that discourage you – the deals are still abundant – but if you snooze now, you're probably going to lose.
Once again, if you're interested in Dr. Yun's full package of 31 slides, you can view it here.