Here is a blast from the past . . . well, from six months ago. I just re-read it and it occurred to me it's an important message for right now. Please give this a little consideration, Help-U-Sell folks.
Help-U-Sell is certainly NOT a For Sale By Owner company.  Yes, it's true:  in the late 70's Don Taylor pioneered the use of the phrase 'For Sale By Owner' on the Help-U-Sell For Sale sign.  In time, that phrase morphed to 'For Sale With Owner,' but the intent was never for Help-U-Sell to be a stripped down FSBO package vendor.  Our vision has never wavered from the notion that Help-U-Sell is a full service real estate company.
Having said that (and fully embraced it without reservation), I think it might make sense to examine our Consumer offer – the one to Sellers, specifically – and how we present it.
Pictured below is the graphic that is often used with sellers as we talk with them about putting their home on the market.  It acknowledges that there are really three ways a home might sell and prepares the seller for the good news that we charge them, not on some arbitrary percentage basis (no matter how the house sells), but on a logical pricing model that varies depending on how it sells.  This chart forms the real heart and soul of most Help-U-Sell listing consultations.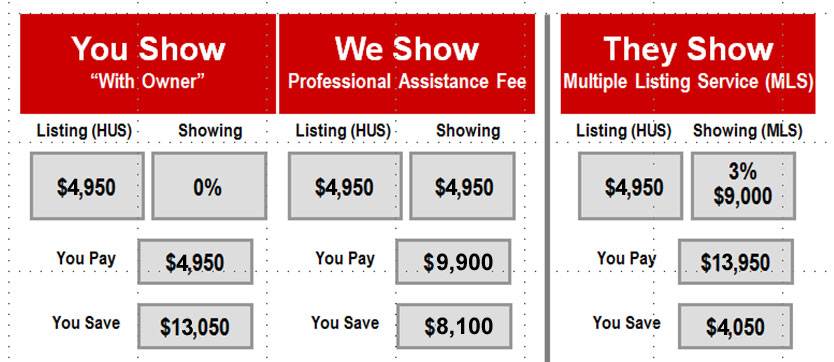 *Note:  the savings in this example are versus an ordinary broker charging, say, 6% commision on a $300,000 home.
We use the first option, the 'You Show' option to talk about seller involvement in the sale process through holding open houses, showing prospective buyers through and talking the listing up at work and in the neighborhood.  If they procure their own buyer in this way, then the Low Set Fee is all they pay; which means  maximum savings.
The second option, 'We Show,' is the place where we introduce the idea that one of the Buyer Agents in our own office may be working with a buyer for whom the home might be perfect.  If the seller opts we can include this option as well. (Notice, in this example, the broker charges a set fee on the showing side too and it's equal to the listing set fee.  There are variations out there, but let's remember: we are a set fee real estate company.  Shouldn't the showing fee also be a set fee?)
Finally, option three has us putting the listing in MLS and having the seller be prepared to compensate an outside company and agent should they have a buyer and affect a sale.
Regardless of which options are selected at the time of listing, the seller will always pay based on how the house actually sells.  Even if we put it in MLS, if the seller ultimately finds his or her buyer, all they pay is the option one price: the Low Set Fee of $3,950 in the example.
There was a time when many sellers opted for  option one or one and two, choosing to stay out of MLS all together, thereby ensuring a large savings.  With the downturn in the market, however, this has become a rarity.  Most sellers, with the advice of their Help-U-Sell brokers, want to pull out all the stops when it comes to initial marketing and so go into MLS from day one.
All of this brings me back to option one.  I think it might be helpful to remember that a whole lot of marketing  happens in that option:
A proper price is recommended.  Any truthful agent will admit that 75% of marketing is done the night the home is placed on the market, when the seller chooses a price.  Properly priced homes, marketed well, sell. Period.  Improperly priced homes don't sell, regardless of how much marketing is done.   That simple Low Set Fee option comes with the credible advice of a knowledgable expert (you) on matters of pricing, terms,  fixing up, showing procedures and a multitude of others things.
The brilliantly beautiful RED Help-U-Sell for sale sign is installed in the yard.
Flyers on the property are created and made available inside the house and out.
Directional Signs, Open House Signs, Sign-in Registers and other tools for holding an effective Open House are given to the seller along with expert coaching on how to hold a effective Open House event.
The Buyer Agents in the office are briefed on the home so that they can talk intelligently about it when inquiries come into the office and do so in such a way that caller interest is maintained, even heightened.  And what do we do with these inquiries?  If the only option the seller has chosen is option one, we send them directly to the seller for showing.
Dozens of photos and a virtual tour are created for the listing so that potential buyers can see it in its best light when deciding whether to proceed with a showing.
The listing is input into www.helpusell.com and is available there for prospective buyers all over the world.  In addition, once on helpusell.com, the listing is syndicated out to dozens of other consumer oriented real estate websites for maximum web exposure.
A QR Code for the listing is generated and made available for use on flyers and on the For Sale sign so SmartPhone enabled buyers can get the information they want, when they want it.
A knowledgeable expert (again, you) is available to help with questions and concerns, to write any purchase agreement and to handle all the details of transactions processing and coordination all the way to and through a successful closing.
And more . . . meaning that every office has other things they may do on an option one only listing.
Look at that list!  That's a lot of stuff! And you know what?  That may be enough to affect a sale even in today's tough market, a sale that could yield a very happy seller who saved thousands!
I'm not suggesting you abandon the MLS (although I am looking forward to the next generation MLS – the one that is not connected to your Board of Realtors and whose policies don't restrict your business).  However, I'll go back to what I said earlier:
A properly priced listing, marketed well, will sell.  Period.  And that applies no matter what the market realities.
Maybe it's time to start offering this option more vigorously to our equity sellers who are willing to price right and are interested in saving maximum dollars.  It's hardly 'For Sale By Owner.'  It's full of good marketing and advice.  And remember:  there is a direct coorelation between seller savings and seller delight; between seller delight and word-of-mouth advertising; between word-of-mouth advertising and the growth of your business.