We started talking about an inventory shortage back in the Fall.  The perfect storm of no new construction coupled with investor frenzy at the bottom of the market and fence sitters finally deciding now was a good time to buy has left most markets with very little to sell.  Oh:  there is inventory, but it's mostly overpriced or essentially unsaleable.  Anything priced properly has multiple offers.
So today, getting listings is essential.  We have to build inventory to meet the demands of our marketplaces and thus, prosper.  But how?
We've got great tools at Help-U-Sell.  I'm very excited about Excel Print/Mail's new mailbox flyer program.  It's a perfect way to get your seller message out to a defined geography.  And using postcards to work the neighborhood around a listing has never stopped being effective.  A few weeks ago, we learned that Robin Rowland had sent a letter to every listing that expired in 2011 . . . and ended up with a couple of listings.  Not bad.
But mostly, getting listings today is not much different than it was last year or five years ago or more.  It all comes down to the basics.
'Remind me again,' you say, 'What, exactly, are these basics?'
David Knox has a ton of good stuff on his website to develop great brokers and agents.  Each month, on the first Tuesday of the month, he releases a free salesmeeting on video and this month it's all about the basics of getting listings.  I urge you to go to his website and click on the video link to 'First Tuesday' – it will wake up your possibly hibernating listing genes.  While you're there, click around a bit – it's a treasure trove of good ideas.
And here's another thought:  Why not set aside that trashy novel you're nibbling at every evening before you go to bed and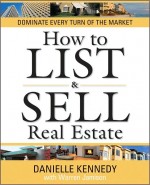 get a copy of what I believe is the best book ever written about how to list and sell real estate, 'How To List And Sell Real Estate' by Danielle Kennedy.  It's been in existence for what?  30 years or something but has been updated, revised, made more relevant . . . and is packed with great ideas on how to get more of what this business is all about:  inventory.  (You can get it at Amazon and B&N, too, but make sure you get the 2011 edition)
Interesting:  both of my recommendations, David and Danielle, have the same initials:  DK.