Hey!  Take a look at this: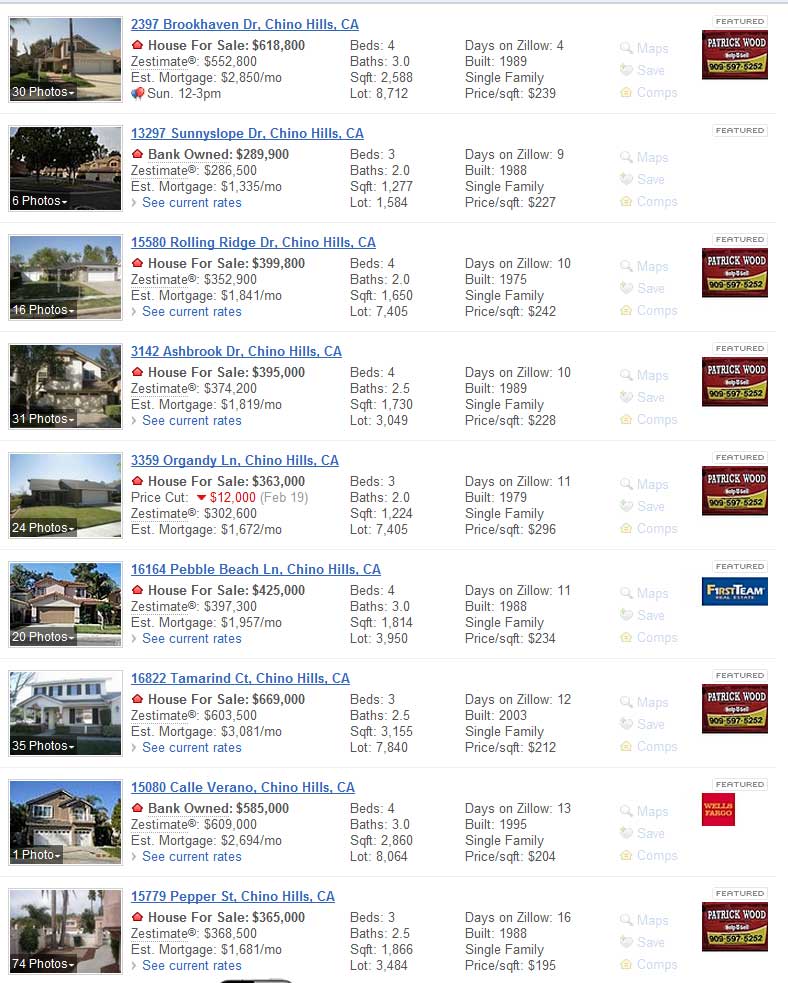 That's the first page of results of a search on Zillow for homes for sale in Chino Hills, CA.  Do you see the Help-U-Sell logo over on the right?  Yep.  It appears six times!  Six of the first nine listings are Patrick Wood's!  Patrick is, of course, our franchisee in Chino Hills and he's done about as good a job establishing the brand in his community as anyone this side of Don Taylor.  What do you think a consumer, looking for real estate in this town, who does what consumers today do (go to Zillow.com) thinks when they see this?  The compounding effect is remarkable!  The logo to the side of the listing is one of the benefits of becoming a 'Premiere Agent' with Zillow.  Of course, the main reason Brokers and Agents upgrade to Premiere is to have their contact information appear next to the listings of non-Premiere agents, but that's really of minor importance to Patrick.  He gets HUGE bang for the buck from the display of the logo because he has a ton of listings! This is always true in our business:  the broker with lots of listings gets lots of leads.
This is why most of Help-U-Sell marketing is directed to potential Sellers.  If we do a good job of building inventory with our superior offer to Sellers, we'll have all the Buyer leads we could ever want.
I don't hear it much anymore, but there was a time when I'd occasionally hear a broker complain that they weren't getting any leads from their website.  My reply was always the same:  'How many listings do you have in inventory?'  I'd usually hear something like 'three' or 'five' or 'I'm down to two.'  They didn't have a website problem, they had an inventory problem.  Solve the inventory problem and the leads will flow.
I mentioned that Patrick Wood has done a superb job of establishing the Brand in Chino Hills.  I want to share something else from him.  It's a little bit of community involvement, of giving back, that really works: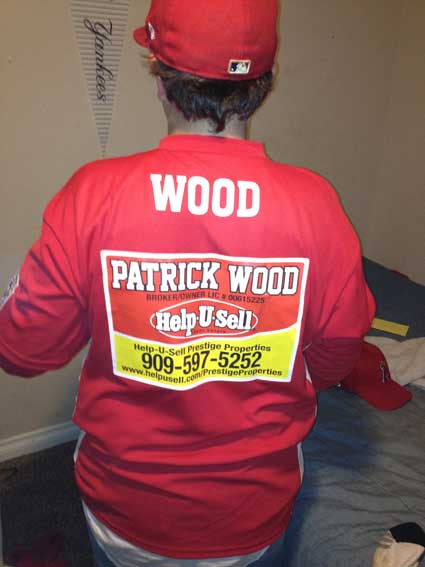 That's Patrick's son in one of the uniforms his dad bought for the team. Once again:  same logo, prominently displayed.
Now, some Help-U-Sell purists might question the prominence Patrick gives to his own name.  I mean, one of the beauties of Help-U-Sell is that it is a system that works.  Unlike ordinary real estate businesses, it is not dependent on personality for success.  When we go out to establish the brand, we establish Help-U-Sell, not any individual.  Yet here, Patrick is branding himself just as he is Help-U-Sell.  He's done this for eight years and today he IS Help-U-Sell in Chino Hills.  Ken Kopcho in Santa Maria, CA has done something similar with his 'Ken Sells' identity and website.  There's nothing wrong with this.  If there is a negative, it is that branding yourself probably diminishes the value of your business on the open market.  If you were trying to sell a business that was built as much around YOU as around your Brand, the assumption is that it would collapse when you walked away.  An established Brand – especially one like ours, that's built on replicatable systems – should be in a much better position to survive an ownership change.
ON A COMPLETELY DIFFERENT NOTE . . .
Tomorrow, Google's new privacy policy goes into effect.  This is a logical change that probably won't upset too many people (although some have been screaming about it for weeks).  What they're going to do is pool all of your profile information from all Google owned products to create one master profile with all of your information in one place.  By pooling your profiles into one, they'll have more comprehensive information about you and will be better able to serve up advertising that is apt to appeal to you.  In addition to the information you've provided to, say, Google+, YouTube, Blogger, etc., they will also pool your browsing history.  Again, it helps them know what advertising to serve you.
Don Gross of CNN had a pretty good piece about the change and you can read it here.  At the end of the article, he presents a handful of easy things you can to to improve your privacy in this new Google world.  I found it helpful enough to reproduce it here:
Here are a few tips on how to keep your data a little more private on some of Google's most popular features.
Don't sign in
This is the easiest and most effective tip.
Many of Google's services — most notably search, YouTube and Maps — don't require you to sign in to use them. If you're not logged in, via Gmail or Google+, for example, Google doesn't know who you are and can't add data to your profile.
But to take a little more direct action …
Removing your Google search history
Eva Galperin of the Electronic Frontier Foundation has compiled a step-by-step guide to deleting and disabling your Web History, which includes the searches you've done and sites you've visited.
It's pretty quick and easy:
— Sign in to your Google account
— Go to www.google.com/history
— Click "Remove all Web History"
— Click "OK"
As the EFF notes, deleting your history will not prevent Google from using the information internally. But it will limit the amount of time that it's fully accessible. After 18 months, the data will become anonymous again and won't be used as part of your profile.
Six tips to protect your search privacy (from the EFF)
Clearing your YouTube history
Similarly, users may want to remove their history on YouTube. That's also pretty quick and easy.
— Sign in on Google's main page
— Click on "YouTube" in the toolbar at the top of the page
— On the right of the page, click your user name and select "Video Manager"
— Click "History" on the left of the page and then "Clear Viewing History"
— Refresh the page and then click "Pause Viewing History"
— You can clear your searches on YouTube by going back and choosing "Clear Search History" and doing the same steps.
Clearing your browsing history on Google Chrome
— Click on the "wrench" icon at the far right of your toolbar
— Select "Tools"
— Select "Clear browsing data"
— In the dialogue box that appears, click the "clear browsing data" box (there are other options you may want to use as well)
— Select "Beginning of Time" to clear your entire browsing history
— Click "clear browsing history"
Gmail Chat
When you start a chat with someone, you can make the conversation "off the record." Off-the-record chats will not be stored in your chat history or the history of the person with whom you're talking. All chats with that person will remain off the record until you change the status. To go off the record:
— Click the "Actions" link at the top right of the chat window
— Scroll down to "Go off the record." Both you and your chat partner will see that the chat has been taken off the record.
What are Google's other products?
Obviously, anything with "Google" in its name counts. But the Web giant owns other products that might not be so obvious to some folks.
— Gmail. Yes, the "G" is for Google.
— YouTube. Google bought the Web's leading video site in 2006
— Picasa. The online photo sharing site became Google's in 2004
— Blogger. The blog publishing tool has been Google's since 2003.
— FeedBurner. A management tool for bloggers and managing RSS feeds. Google bought it in 2007.
— Orkut. Google's original social-networking site isn't big in the U.S. But it's one of the most popular sites in India and Brazil.
— Android. Yes, you probably know this. But just for the record, Google owns the most popular smartphone operating system.