Good Morning!  The 2011 National Association of REALTORS Annual Convention and Expo kicked off yesterday afternoon and I am happy to report that the first day was a success for Help-U-Sell.  Our booth is HUGE and, thanks to Ron McCoy, very well located.  We have a big corner, just one set of exhibitors back from the main entrance, right next to the Wells Fargo booth (which always draws a big crowd with games and give-aways).
It was a success for several reasons:
First and foremost – the quantity and quality of people who stopped by to chat.  Really, we've done this show before and others, and this time people were bright, energized, and sincerely interested in who we are and what we're doing.  It was a fairly constant stream of significant conversations.
We looked GOOOOOD!  Mary, Robbie, Kendra, Ron and I were joined in the booth by Dan Desmond, Kim Zelena, Leigh Ann Losh and Elias Klaeb, so we didn't look lonely and forelorn! (nothing worse than a great big booth with one or two people in it).  Plus, Ron had gotten each of us a high quality white button down collar shirt with big embroidered logo over the pocket.  We looked sharp and cohesive.
A couple of former franchisees, people who dropped by the wayside in the turmoil of 2006, stopped by and were more than a little interested in . . . well, in doing what Help-U-Sell people who leave often do:  coming back.  One said something I've heard many times before: 'The happiest days of my real estate career were the ones I spent as a Help-U-Sell Broker.'
We had conversations with people from Canada, the Philippines, and India (yes, India) about the possibility of our brand making it into their parts of the world.  That's probably down the road a month or two (or ten), but it's great to know there is interest and anticipation there.
We are building momentum to carry us into a growth phase.  Growing is not something we've put much energy into over the past few years.  Instead, our laser-focus has been on helping our people survive and thrive in the most difficult market any of us has ever seen.  So we're starting from a full stop.  But the momentum is building.  Our Informational Webinars are pulling in a steady stream of interested attendees, our presence here and at the recent CAR Expo and upcoming Tripple-Play meeting are putting us on the mental map of REALTORS everywhere, and our full-page ad in the latest REALTOR Magazine is propelling us forward.  I expect 2012 to be a year a significant growth for Help-U-Sell.
We expect many more Help-U-Sell family members to be in attendance over the weekend, all wearing those cool white shirts and helping us spread the word about our excellent industry and consumer offerings.  If you are in Anaheim, please stop by and say 'Hello.'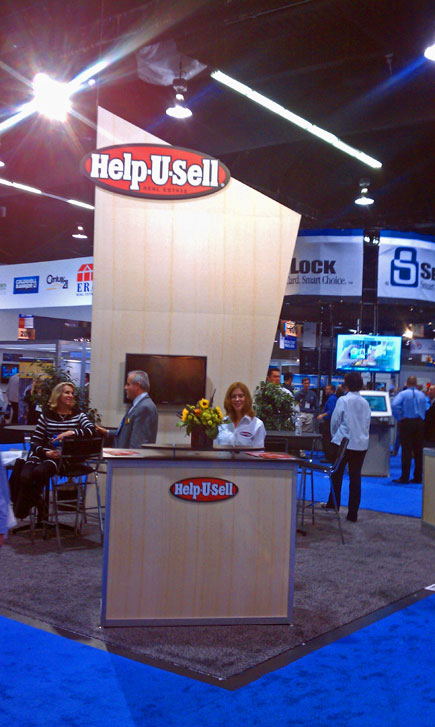 Kendra in the booth