I met Don Taylor for the first time last month.  I had a meeting with his daughter, Marci, and when I showed up at the Orange County Starbucks we'd chosen as our meeting place, there stood Don, as well.  Needless to say, it was a thrill and an honor to meet them both.  They deservedly occupy a very hallowed perch at the top of the Help-U-Sell family tree.
We talked about all kinds of things but Marci said something that was quickly echoed by Don:
'People forget, but Help-U-Sell was always about the buyer.'
(Stop.  Think about it for a minute . . . . . . . . . . . . . . . . . . . . . . . . . . . . . . . . . . Ok)
I immediately pictured a slide I used in the first round of Help-U-Sell rallies done last year.  It is a simple diagram of how Help-U-Sell generates leads: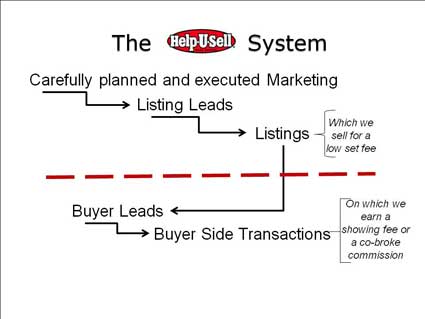 Put succinctly, we go into the marketplace, set a fee for our home marketing services that is reasonable and logical, that saves sellers money and still generates a nice profit for the office.  The Low Set Fee* creates interest and results in more sellers inquiring about our service than would if we were ordinary brokers charging a one-size-fits-all, percentage-based commission.
We all know what happens when a prospective seller asks about Help-U-Sell:  they almost always list with us.  So more interest, more inquiries, means more listings.
It almost makes me sick to think about it today, but during the high flying times of 2004, 5, and 6, many Help-U-Sell brokers stopped right there, where the dashed red line is.  They put blinders on and believed that if they just worked listings and didn't worry about buyers, they'd make plenty of money with fewer staff.  They thought, 'It's a sellers' market.  I have a model that enables me to get more sellers than anyone else.  Why should I scramble around chasing after buyers?'  All you have to do today to comprehend the completeness of that folly is to look around . . . and see that those brokers are no longer with us.  Like the Dinosaur, they became extinct.
You can't ignore the buyer, no matter how overheated the market becomes.
While listings are not a loss-leader at Help-U-Sell (we expect to make a reasonable profit on them), one of the benefits of having them is the buyer leads they generate.  These are buyers who might buy one of our listings, perhaps generating a selling fee, or buy an MLS listing, thus generating a co-broke commission.  In either case, the buyer side usually generates more revenue to the Help-U-Sell office than the listing side.
That's why the most popular way to implement the Help-U-Sell model is with the Broker and/or a licensed assistant taking the listings (after all, with our system, it's not Rocket Science), and licensed agents working with the buyer leads the listings generate.  There's usually a few more dollars on the buyer side, making splitting commissions with an agent possible.  In most cases we don't have that kind of latitude on the listing side.
So, here we are in 2010.  The market is still weird, but it's not nearly as weird as it was last year at this time.  And you know what?  It doesn't matter how weird the market is anyway;  the great truth is still true:
He who controls the inventory, controls the market
So get out into the marketplace.  Tell your story.  Take more listings.  And then . . . capture, incubate and close the buyer leads those listings generate.  That's the Help-U-Sell way.
*By the way, Don has no problem with 'Flat' fee.  He thought the whole campaign about tires going 'flat,' and 'Set' fee being preferable was splitting hairs.  I have a feeling the consumer would agree.