'So, according to the Market Analysis,' said Broker Al, 'we should price your home between $275,000 and $285,000.'
There was a long pause. Bob and Carol slowly sat up and exchanged concerned glances. Although it seemed as if a decade had passed, Al said nothing. He knew this was a closing situation and remembered what Tom Hopkins had told him to do at times like this: Shut Up!
Finally, it was Bob who spoke. 'I know the market has dropped . . . I mean, this place was worth about $400,000 not too long ago. We just can't afford to lose that money.' He looked back at Carol. She was nodding. Bob continued, 'I think we're just going to wait until the market comes back.'
Another long pause; but this time it was Al who slowly sat up.
'I know it seems like you lost a lot,' he began, ' But, truth is: you gained.'
'Gained?' asked Carol, 'How do you figure?'
'Here, let me show you.' Al pulled two laminated sheets from his clipboard.
'According to the National Association of Realtors,' he began, 'Trade up buyers — that'd be you — tend to buy 50% more home when they move. They spend 50% more than the price of the home they sell.'
'In your case, using the peak value of your home, that means you'd have sold for $400,000 and probably bought something at around $600,000.'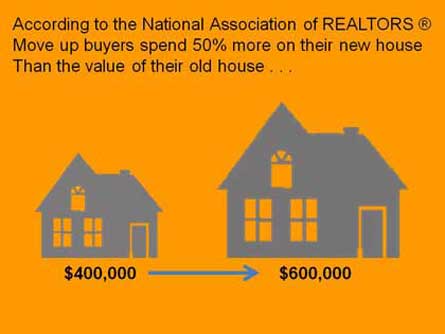 'Whoa!' said Bob, 'We can't afford $600,000!'
'Of course not,' answered Al, 'But back when your home was worth $400,000 that's probably what your dream home would have cost.'  Carol looked skeptical. 
'Now,' said Al,'Let's assume prices drop 30% . . . which is a good guess, because that's about right.'  He picked up the second sheet.  'Here's what you'd be looking at.'
'Your $400,000 house is now worth $280,000 and you feel like you lost $120,000 — but you really didn't lose it.' 
'We didn't?' asked Carol.
'No,' replied Al.  'Because we're not really talking about dollars here, we're talking about value — and that $600,000 house you've always dreamed of is now worth $420,000 — a drop of about $180.000.'
'Oh, we can probably afford that,' said Bob.
'Of course,' replied Al.  'And the good news is:  you're actually ahead of where you'd have been a few years ago.  The drop in value has been greater in your trade up house:  $60,000 greater.  That's $60,000 you won't have to finance . . . '
'Oh, don't worry,' laughed Carol, 'We wouldn't have qualified anyway.'
'Right,' chucked Al, 'But that additional $60,000 could mean as much as $115,000 in mortgage payments over the life of a typical loan.' 
'So, I guess you're telling us to go ahead and take the hit now?' asked Bob.
'It's not really taking a hit,' answered Al, 'It's taking advantage of an opportunity.  After all, your dream home will never be less expensive than it is right now.  Despite what you read in the papers, this is actually a great time to buy!' 
This was followed by another long pause, one that was far less uncomfortable for Al.
 . . . to be continued . . .