I spent a week around Christmas this year in Costa Rica.  It was a wonderful trip, full of volcanoes and white water rapids, jungles, waterfalls and indigenous people.  One morning, I was walking on the black sand beach just north of Puerto Viejo and came across a green bottle, rolling up on the shore with each incoming wave and then rolling back.  I noticed it was stoppered with a sturdy cork when I picked it up . . . and then I saw the paper inside. 
I had come across a true message in a bottle! 
I sat down on a log and pulled the cork, but the paper had unrolled to the point that it would not make its way down the bottle's neck and out into my waiting hand.  I glanced around and spotted a medium sized rock in the sand.  Walking over then shielding my eyes I smashed the bottle down on the rock and it exploded – leaving the rolled paper under a sparkling green cover of broken glass. 
Nearly trembling with anticipation, I extracted the little scroll and unrolled it between my two hands.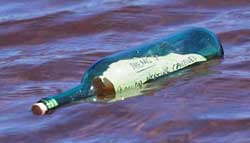 I gasped. 
There, centered at the top of the page, in glorious red, was . . . a Help-U-Sell Logo.  Was this a coincidence?  Or was someone playing some kind of joke on me?  I looked around for the hidden cameras, for the crew that would jump out declaring I had been 'punked' – but no one was there.  I returned to the page and began to read what was written there beneath the logo. 
I do not know who wrote this piece or even when – it was neither signed nor dated.   I do know that it appears to be a set of New Year's Resolutions for a Help-U-Sell Broker somewhere.  I think there is some wisdom here and wanted to reproduce it for you, word for word, as I found it.  Perhaps you will find an idea or two to incorporate in your own set of goals for 2010.  Enjoy:
This year, I will update my market analysis in January, May and September.  I will pay attention to the mix of Short Sale, REO and Equity Seller transactions.  I will use the information I glean to focus and plan my activities in the coming months
I will create an affordable marketing plan that accomplishes four things: 
Keeps me visible in the marketplace
Generates new leads into my business
Enables me to take care of opportunities like FSBOS, and Expired Listings
Keeps me in meaningful contact with my client base
I will track every inquiry, getting as much contact information as possible and noting the source of the lead and its disposition through the real estate process.
I will evaluate my marketing by comparing the number of leads and dollars generated by each piece of advertising I do.  I will revise my marketing plan to maximize the return I get on every dollar I invest.
This year I think I'll buy a cute car – a bug or a cube or something like that – and have it wrapped.  I'll drive it, of course, but mostly I'll just park it where it can be seen by the largest number of people in my marketplace.
This year, my minimum listing inventory is 20.  Pendings don't count.
I will work at least one expired listing every day.
I will have 3 FSBOS working at all times.
This year I will take no listing priced more than 5% above market value.
This year I want at least 50% of my closed sides to come from buyers.  To facilitate this I will:
Learn as much about finance as my mortgage rep knows (check out www.realfinancesolutions.com)
Sit down and learn how Jack Bailey creates a 'Real Estate Plan' for his buyer prospects and how he uses it to cement their loyalty and referral business
Become lethal on the telephone.  If they contact me, they won't hang up without my getting contact information and permission to call them back.
I will use Listingbook with all of my buyer prospects.  I will also spend a few hours in January learning the full range of Listingbook capabilities.
Right after the first of the year, I will contact my Sphere of Influence, Centers of Influence, Past Customers and Clients with news about the new tax credit.
In April I will contact them again with information about Homestead Exemptions, Mortgage Interest deductions, market trends and local market activity.
I will write and mail at least 3 personal notes every day.
I will plan each business day the night before.  I will note problems, challenges and primary objectives for each coming day.  I will allow myself to 'sleep on it' overnight so that I am focused and purposeful the moment I get out of bed in the morning. 
I will remind myself that real estate emergencies are rare and will carefully weigh alternatives before abandoning my plan to wrestle with the crisis of the moment.
I will spend at least 30 minutes each day (but no more than an hour) building my online presence in the following ways:
Taking advantage of my free Help-U-Sell Broker website as soon as it is available and learning how to personalize and customize it in the OMS.  I will make regular content updates throughout the year to maximize its attractiveness to search engines. 
I will set up my professional Facebook page, join various real estate related groups and invite my CI's and SOI's to become 'friends.'  I will keep my posts friendly, short and always professional.
I will visit Trulia, Zillow, Activerain and other real estate related websites and participate in forums, Q&A and blogging. 
I will attend 'Tech Tuesday' webinars whenever possible to learn as much as I can about how to take advantage of the power of the Internet.
I will Plug In to Help-U-Sell.  I will not be an island.  I will participate in the Wednesday Broker Roundtable calls whenever possible.  I will also attend Thrusday training when I can.  I will call my peers and my corporate reps regularly.  I will investigate the coaching program and will become involved.
Assuming my plan produces the activity I expect, I will begin to look for a buyer's agent in the first quarter.  I will contact new licensees and look for a good candidate there.  I will also target agents in their first year with my competitors, ones who may be disillusioned and therefore open to the Help-U-Sell opportunity.  I will not worry about the many seasoned agents who, alas, are likely already spoiled by the ordinary real estate world. 
In January, I will create a detailed list of all the reasons why an agent would be attracted to Help-U-Sell.  I will continuously expand, revise and study the list.
I will get a minimum of 30 minutes aerobic exercise – for me that means walking or biking — three times a week.
I will practice portion control when eating (I will start to regard Doggie Bags as chic).
I will snack between every meal:  on fruit, cheese, a few nuts and raw vegetables.
I will sleep soundly for seven hours every night.
I will remember to smile and laugh – especially at myself. 
And I will have faith that everything is improving and that I am poised and ready no matter what comes down the pike. 
I will be proud.