Al had the listing agreement on top of his clipboard and the pen in his hand poised over the blank labelled Listing Price.  'So we agree then?' he asked, 'We're thinking $285,000?' 
Again, Bob and Carol sat back and looked at each other.  Al watched as a little ridge of skin formed between Carol's upraised eyebrows.  Darn! he thought, Here we go again!
'Um,' Bob began, 'We're thinking more like $320,000.' 
The emotion never made it to his face, but inside Al was shouting. I didn't realize we were bargaining over a Louis Vuitton knock off on a Tijuana sidewalk! he thought.  This is nuts!  We're in a bidding war and the house isn't even on the market! I should just walk!  But then he resolved to make one more attempt.
'$320,000?' he began.  'We're getting closer.  But that's still, what?' he reached under the stack of slick graphics now littering the kitchen table and extracted the Market Analysis, 'About 12% higher than the market will allow.'  Bob and Carol followed his hand back to the facts of record.  Then he pointed to a property in the 'Currently on the Market' section.  'Remember, this is your competition,' he said.  'It's brand new, the buyer can choose carpet and colors, and it's got a two car garage, compared to your car port;  and it's priced at $284,900.' 
'Yeah,' said Carol, 'But not everybody wants a new house . . . ours is cozy and lived in, and the yard is already established.' 
Al sat quietly for a moment, thinking.  He knew the worst thing he could do would be to argue with Carol about the merits of her decorating or the condition of the lawn.  Slowly he reached back into the stack of tools in his clipboard. 
'Here, take a look at this,' he said.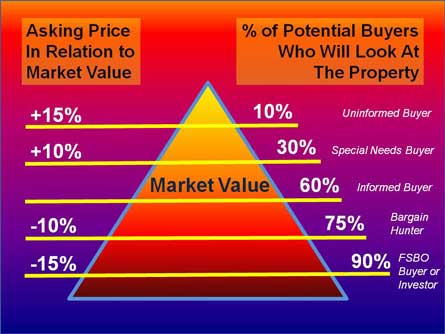 'Ooo,' cooed Carol, 'It's pretty!' 
'Yeah,' said Bob, 'What is it?' 
'This is the Pricing Pyramid,' answered Al.  'What it shows is when you price at Market Value — which we're saying is between $275,000 and $285,000 — 60% of the potential buyers for your property will consider it.  40% will either never learn about it for one reason or another or they'll eliminate for some other reason — perhaps one of their criteria is a garage rather than a carport.'  Once again, Bob and Carol were leaning over, intent on the diagram and following Al's pen as he directed them through it. 
'Look what happens when you price at just 10% above Market Value.'  Al paused.  ' In your case, that would be about $310,000.  You cut the number of potential buyers who will consider your house in half!  And, truth is, you want to go closer to 15% over and look what happens:  finding a buyer for your home is like trying to find a needle in a haystack.' 
Al resisted the temptation to go further with his explanation.  He'd made the point and now it was time to let Bob and Carol absorb it.  He started counting: one-Mississippi, two Mississippi, three Mississippi, four Mississippi . . .  And then Bob looked up.
'So you really think $320,000 is too much?' he asked.
'Bob, it's not me,' answered Al, 'It's the marketplace.  That's what really dictates value and I'm sorry it's not cooperating in this instance.'  He stopped for a moment and settled back in his chair.  'Remember all of that marketing I'm planning to do to get your house sold?' he asked.  Bob and Carol nodded. 
'I was impressed,' said Bob.
'Great,' said Al, 'I'm glad you were.  But here's one of the great truths about marketing real estate:  the most important part of it takes place right here and right now.  We can choose a listing price that lets the marketing do its job; or we can choose one that cripples it and cuts its effectiveness in half.  Since finding the best buyer for your house is a matter of exposing it to the largest number of potential buyers, my strong recommendation is to price it where the largest number will see it:  at Market Value.' 
Al watched as Bob reached over and took Carol's hand.  She looked back at him and Al was certain he saw the slightest nod of her head.  Finally! he thought, We're going to agree!
 . . . to be continued . . .