The Set Fee Blog has been a little inactive lately. There are a couple of reasons: I disappeared for a couple of days and then our own Help-U-Sell Success Summit is less than a week away. There is so much to do to get ready for the meeting! I want it to be powerful, meaningful, energizing and absolutely worth the investment of days (and dollars) our guys will be making to attend.
The agenda has been driven by input we got through a couple of surveys, one formal one less formal. Brokers told us they wanted to know more about creative financing. With toughening of the credit markets — yes, I know: rates are wonderfully low, but underwriting standards are very high — we need to think about financing in less conventional ways. That might mean seller financing or private money financing or obscure, little known programs. To enlighten us, I've arranged for Patricia Boyd to spend the last part of the first day with us. She is an amazing resource and has been focused on educating REALTORS on matters of finance for 25+ years. A strong consumer advocate, Patricia is a perfect match for our group and I know her information will mean more closed transactions for everyone.
Tuesday's guest is Nick Taylor from Zillow. While all of the aggregator real estate sites were jockying for position, Zillow quietly rose to the top of the pile and has become the home search platform of choice for consumers. Really: when America wants to look for a new home, she often starts at Zillow.com. I ask myself why? and how? Why did consumers come to choose Zillow and how did they go about engineering that amazing feat? Strangely, I think the answer is in that silly feature all of us REALTOR-types hate, the Z-estimate of value. All of the aggregators offer feature rich home search capabilities that are fairly similar. But early on, Zillow went out on a limb and started estimating the value of properties via algorithm, not pencil-and-paper market analysis. There were distinct limitations to the accuracy of those estimates, and we have had to do lots of clean-up with consumers who relied on that estimate to make decisions, but it did distinguish Zillow from the rest of the pack. Nick is going to talk with us about how we can use this third-party tool to generate leads and more. His career is based on online marketing and prior to Zillow he managed marketing for a large independent brokerage in the mid-west.
Wednesday morning, David Bartels of Home Loan Advocates will share '12 Things Every Agent Should Know About Short Sales.' David's company has a remarkable track record in negotiating and closing short sale transactions and he attributes much of that success to their creative approach to deal structure. The session is designed to give anyone working short sales (ok: that means anyone seriously in real estate) new ideas about how to get these sometimes complicated transactions through.
And those are just the guests. We also have three Star Panels on the schedule. Jack Bailey will be facilitating a discussion with four of our top five Brokers. They'll be talking about how they've managed to thrive in this tough market. There will be lots of good information about organization, focus and, of course, marketing. John Powell is leading a panel of Brokers each doing something incredibly right. We'll hear from one who started from scratch and built a largely REO business, one who has short sales down so well that he's processing them for other brokers, and two who started new businesses in the downturn and have quickly become successful. Finally, I'm leading a panel on Marketing for Visibility. I have a small group of brokers who have done an excellent job of keeping their name, logo, face, prominent in the marketplace.
Today I got a look at Robbie's slides for his tech session and I'm wishing we'd allowed more time. He's got so much good stuff to share and a couple of really nice ZINGER announcements! As I look back at the last few years, we seem to be trending six months to a year ahead of the rest of the industry when it comes to tech. We quietly get the cool stuff they start talking about months before they start talking. That's our Robbie — and his session will be very cool.
Ron McCoy will share his vision and plans for Franchise Sales and will showcase lots of the cool stuff we're doing in that arena. Hey, by the way: did you see our full-page ad in REALTOR Magazine? If not, here's a copy: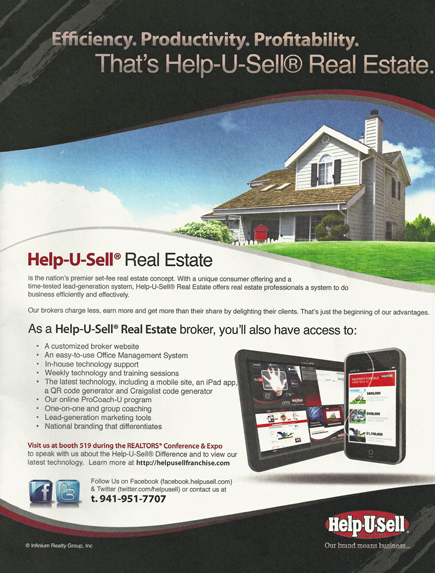 My session will focus on the new reality (the one that most of the industry has yet to acknowledge) and how we can own it. Our theme is 'Taking Charge of Change' and that's exactly what we're going to continue to do as we move into 2012.
It's that kind of VISIBILITY we're going for now, and there is no better example of it than our presence at this week's NAR Convention, where we will be in force with the biggest booth of any real estate company, with great new print and electronic marketing tools, a big logo-encrusted shuttle bus and a dozen or so enthusiastic Help-U-Sell Brokers running through the exhibit hall scaring the be-jabbers out of the competition! It's going to be a great time!