Is your listing consultation linear?  Does it go from point a to point b to point c, from slide 1 to slide 2 to slide 3 (and heaven help you if you get interrupted 'cause you may not remember where you were)?  If so, it's probably not a consultation at all; it's just some schtik you memorized, like the Gettysburg Address or the lyrics to Baby's Got Back.
'Okay? So now let's go on to the next slide and I'll show you all the awards my office has won!' (slides finger across Ipad to display the next slide in the sequence).
Here's the point:  you do need graphics to give power to your listing conversation . . . but they need to be called up spontaneously, as needed, not presented in a canned roll, like your high school heath class lecture on sex!
For me, this point was most dramatically illustrated when I saw Steven Covey speak before a couple thousand people.  I was on staff so was both in front of the stage and behind the scenes.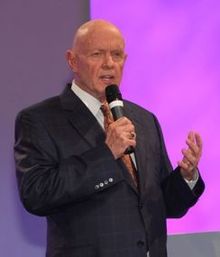 Covey came out and started talking.  Periodically he'd say something like: 'Put that slide up with graph now …' and the slide would magically appear behind him.  He had an assistant backstage who had all of his slides on his computer.  He knew them and Covey's thoughts so well that he could access whatever graphic the master needed to make his point.  It's one of the best 'speeches' I've ever heard because it wasn't a speech at all:  it was a conversation with graphic support.  That's what you want your listing consultation to be.
I am in Oaxaca, studying Spanish at the Instituto Cultural de Oaxaca.  It's a wonderful school set in a sprawling hacienda on the edge of the historical district.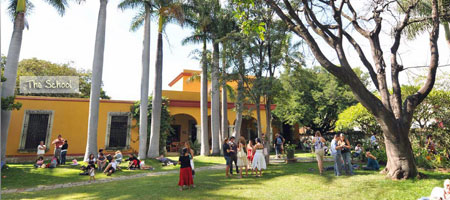 My teacher, Cinthia, is outstanding.  Not a word of Engish is spoken in her four hour class.  It's against the rules!  But she has an Ipad on the table in front of her and when we Gringos need a definition she quickly accesses Google Image Search and shows us a picture of whatever we don't understand . . . and then gives us synonyms for it in Spanish.  That's what needs to be happening in your listing consultation.
Use the graphics when your sellers need help to understand.
The graphics are support for your conversation.  They are not the conversation.
How do you accomplish this?  First, you memorize the Gettysburg Address (your listing presentation) . . . linear-ly.  Learn it upside down, backwards, speak it in your sleep.  Tie each point your want to make to a graphic.  In other words:  do what every class on listing presentations has taught you to do.  Then break it down:  which slide(s) support each point you are likely to make with a seller?  Now, trash the script and start practicing having a conversation about listing using the truths you memorized.  Pull up graphics when they might help.
When you go live with a seller, have your slides laid out on your tablet in 'slide-sorter' view, so you have a thumbnail of each one.  When you need graphic support, simply touch the thumbnail you need.  When the seller has a question or needs clarification, touch the appropriate thumbnail.  When they need to see why staging is so important, touch a thumbnail.  When you are talking about how you out-perform the local MLS, touch the thumbnail with your stats.
Your tablet is an essential tool today, for listing and for so much more.  But don't get sucked in to using it like the old presentation book you tried to learn so many years ago, going from page to page, from canned script to canned script.  You hated that at least as much as your sellers did!  Use the new tool to liberate your listing conversation.  You'll get in, make your point quicker and more powerfully, and leave with  a signed listing agreement.  I promise.